Released on February 5th after being repeatedly pushed back since it's original September 25 drop date, the properly titled "Half A Klip" is a mere 11 tracks, two of which are bonuses. For the reviews sake we'll call it an EP, I assume KGR plans to drop a "full Klip" or full length album in other words sometime soon. Nevertheless, this will be the fifth solo album from G. Rap since going solo in 95. The entire album was financed by the youngest active CEO in the music industry - CEO DMAK ( 23 yrs old ), of Chinga Chang Records who is affiliated with Koch and Latchkey.
Apparently the album was leaked to the internet by Koch for marketing purposes on January 31, so after six long years in the making, Kool G. Rap comes rampaging out the gate like a horde of blood thirsty savages all gunning for your jugular. In the past few years we've seen some of the veteran rap legends make a half-assed attempt at a comeback album most of which do poorly and spoil your previous admiration you once had for the artist. They either switch their styles, trickin' thereselves for pop radio play or come on some soft-ass Cosby family tip, not cursing and without even the slightest trace of their former Gutter block Hustling, golden-Mic clutching days left in them. This album is the complete polar opposite of that.
Kool G. Rap is the type of Rapper that will chew your face off like a Kodiak on Acid and as Raekwon would say, this album is bonafied "Punch you in your face music." Yeah that's right, KGR took em' back to the *Cuban Link era on this one.
The painted portrait on the cover alludes to the insanely vivid scenes G. Rap giftedly projects through his multi-syllable flow, painting pictures with tons of flavor and finely crafted technique in his delivery. We're talking pistols in ya drawers, Colombian neckties, growing up in the grimiest slums, overseeing Drug rings, you know, back to the old days. The intro track "Risin' up is his saga through all the dues paid, the struggles, the hustles , running wild through the boroughs flexing muscle. The Intro begins with a distant trumpet battle cry overlaid with a sample from Bishop Don Magic Juan , which I believe was in the film American Pimp.
"Back to the old days, back to his role play
Hoody and black Mac back in NY – Ok!
Ok Corral style when that toast spray
I'm in the spot crack viles by the roach spray
Gutter swagger nigga dagger to ya throat, play…
No I aint going for ya plate - I want the whole tray!"
The production is a real therapeutic breath of fresh air, beautifully composed and arranged layered with jazzy melodies, raspy drum hits, horns, and funk sounds. KGR hits you with some pimp swagger anthems, berzerk fist-pumpers and tracks infused with assorted guitar strings and an overall cinematic feel from which G. Raps imagery epically materializes with such clarity and precise delivery. Some other notable tracks are "Typical Nigga," "100 Rounds" and "Whats more realer than that" is just ridiculous banger. Dj Premier concocts a beastly track called "On the rise again" and as predicted G. Rap spits diabolical darts bar after bar completely mutilating the track from the jump off.
The only NY club banger "Turn it out" is still a ferocious joint regardless of the jiggy, Timbaland-esque best. G.Rap illustrates the mastodon strides of a true gangster stepping fly through the club 30 deep with goons that raise hell.
"Suge Knight cigars – dump the ash on cats
30 deep – vip
In da back all dat
Throw my drink in a chick face dat act all wack
Ladies move, fix ya attitude – back on track."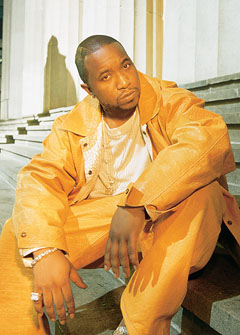 Few give G. Rap his recognition for his contributions to rap. His style and flow influenced and brought into creation the likes of Nas and Big-Pun. He's one of the true originators and it's inspiring and motivating to see such a picture-perfect return to the essence. It's definitely safe to clear all doubts, Kool G. Rap is back and harder, stronger and sharper than ever. For all those disgusted with the mediocre mess coming from NY lately this album hits home with the true *Wally don era vets , the box-cutter totin'elite, piledriving like a pack of razorbacks through the fake and the meek. GO cop that album and promote the resurgence of the era of Don bosses spittin' classic after classic. Hip-Hop is still breathing.
Check the vitals.
Track Listing
Song Title
1. Risin Up
2. Turn It Out
3. 100 Rounds (O.G. Version)
4. The Life
5. Typical Nigga
6. What's More Realer Than That
7. I Feel Bad For You Son
8. With A Bullet
9. On The Rise Again
10. Bonus #1
11. Bonus #2
Posted and crafted by RICO for Pimpin' Pens
* Cuban link Era or Wally Don Era is 94-96 following the release of "Liquid Swords," "IronMan," and "Only Built for Cuban Linx."