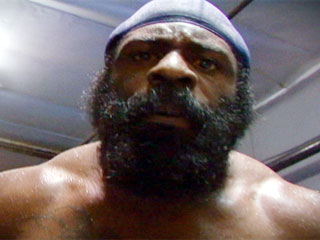 Peep Miami's own Kimbo Slice getting bassed* up by this Police officer from Boston in this classic video. Kimbo is still the hardest though, but this cop should definitely be more famous for his awesome display in savage ass-whooping delivery. Wow, what a fight, this shit really goes the distance! This is one of the most hardcore fight videos I've seen on the Internet, so naturally we added it to our king-size repertoire .
It's Kimbo vs Sean Gannon, the officer who challenged Kimbo Slice to this mega clash of the titans, unfolding into a battle royale of epic proportions. This is the only known footage I know of in which Kimbo loses.
Yo, honestly if his crew hadn't jumped in as many times as they did, the Cop would have destroyed his ass. All he had to do was use some knees, I think I saw one knee thrown but look how vulnerable Kimbo was for the majority of the fight. Now, he's an unstoppable bestial menace with the professional training and what not, but this is still an extremely ferocious fight which we're proud to feature for all of you to enjoy.
*bassed up="Beat the fuck down to the umpteenth degree."
Posted by
Rico
for Pimpin' Pens